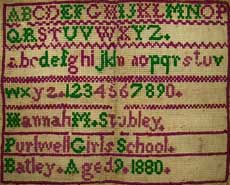 A sampler is a piece of textile, cotton or linen, with different sewing stitches. Samplers dating from the 15th and 16th century were used to demonstrate skill, preserving knowledge of the craft by copying existing patterns via hand to hand exchange. Later samplers used templates with standard elements such as the alphabet, numbers, animals, flowers, people and decorative borders, sometimes with the name and date of embroiderer.

Samplers were sewn by young girls at home or in school as a part of their education. Sewing was thought of as a refined art for young girls to practise. It taught the girls sewing techniques, numeracy and literacy. For example the sampler made by Hannah M Stubley aged 9 in 1880, at Purlwell Infants School, Batley, with alphabet and numbers (see left).

Samplers were also used to teach girls the practice of religious virtue and could include moral elements such as Adam and Eve, The Tree of Knowledge, Noah's Ark and Solomon's Temple. The sampler signed Lydia Booth 1834, consisting of an elaborate design with religious motto in the centre, Adam and Eve, the Tree of Knowledge and a serpent illustrates this.